Here comes the hyped and long waited Google's Mobile OS 2.0. This software is expected to officially debut first on Verizon's Motorola Droid smartphone next month.
Android 2.0 codenamed Eclair adds a bucket full of features which makes it more dazzling and usable. Here's a look at what's new.
Camera Improvements
Android 2.0's camera does better than before. It enables user controls for flash and digital zoom. The software also includes Photo modifications: scene mode, white balance, color effect, and macro focus.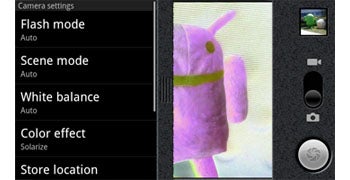 Better Keyboard
The Android 2.0 edition improves typing on the virtual on-screen keyboard snappier. It comes with a tweaked layout for buttons, designed to improve key-pressing accuracy and faster typing. It also relies on a revamped dictionary that learns from user's typing habits and includes names of your contacts as suggested words. (this is present in iPhone too)
Better Browser
The browser in Android 2.0 gets a new user interface. A new address bar offers support for instant tap-driven searching and navigation, and double-tap zoom is supported throughout the browsing experience. The browser is compatible HTML5 standard, which includes geolocation API and video tag. Even Google Wave uses HTML5, so it would support it.
Better Bluetooth
Bluetooth gets a boost in Android 2.0: First, Bluetooth 2.1 is fully supported with all profiles. Second, developers will be able to better integrate Bluetooth functionality into their apps. With the Android 2.0 update, applications will be able to activate Bluetooth on your phone, search for other Bluetooth-enabled devices, and send and receive Bluetooth data. This would encourage Peer to Perr seamless interactions, good for gaming.
Quick Contacts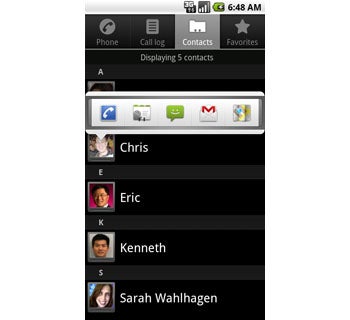 Android 2.0 includes a new "Quick Contact" API that simplifies communication throughout your phone. The feature creates a menu bar with easy icons showing communication modes — e-mail, instant messaging, and whatever other venues: like GoogleMap location, etc. The new bar pops up every time you tap on a contact's image anywhere on the device, whether you're in your actual contacts list, your e-mail, or even your calendar.
Multiple Account Support
Android 2.0 lets you manage multiple accounts throughout your device. That means you can sync up several e-mail addresses, Exchange-based or otherwise, and keep track of your messages and contacts together.
With the multiple account support, the 2.0 OS will allow you to create a combined inbox that displays messages from all of your accounts on a single page.
Other Additions
Android 2.0 introduces a new graphics architecture with better performance and improved hardware acceleration. It also brings SMS/MMS search and a handful of calendar improvements into the OS.
Watch the Official Video:
JR