Consumer Electronics Show, the world's biggest Gadget show,  is getting all set for next year's bang. Last year's CES was great and like every year, it just gets better and better.
CES 2010 has lots of rumors building up already. Few predict that this time Steve Jobs will deliver the keynote. On the Contrary, other sources claim Apple will be missing in the gadgets show. whatever the case is, it's going to be BIG.
Let's go through Top 6 Trends for CES 2010 followed by the hottest Gadgets:
1. More, Better, crisper, cheaper 3D /2D HDTVs
Three-dimensional TV is coming to a living room near you, believe it or not and that's what we are going to see at CES 2010. You might argue that 3D won't make it's way to Home theaters, but vendors don't think alike, they will be there to change our perception. One thing is clear, TV manufacturers need something new to get people buying TVs. Samsung, Sony, Hitachi, LG and several others are going to showcase their latest offerings, some with 3d glasses, and others without it. Though it was there in CES 2009, 2010 is going to be bigger and more serious on this. Expect cheaper, energy efficient and Higher resolution, higher refresh rate TVs in 2010.
2.) PCs, Notebooks, Netbooks get snappier
With the announcement of Intel's new Atom N450 processor, the netbook is taking steps toward becoming less than a poor-performing, undersized laptop.
At the same time, expect all the major notebook manufacturers to introduce laptops with ULV – that's ultra-low-voltage — processors in them, which offer more performance than the Atom, great efficiency (and thus battery life), and quite thin form-factor.
We'll get to see Intel and AMD coming with new line of processors that are faster and lower on the power footprint.
3.) Smarter Smartphones
CES is mainly to do with innovations and never wass driven by gadgets like phones. But sicne last year, the Trend has been set and this year, it would go better.
The era of WindowsMobile, Blackberry is over. What we will see at CES is more of Android, maemo based devicesWith 50+ android devices coming in 2010, it makes sense that few of them would be seen at CES.
Google is demoing the Nexus one a.k.a Google Phone on 5th Jan, few days ahead of CES, probably goes live during CES. Palm also aspires to launch a new WebOS device that could potentially save Palm from dying.
Dell also has eyes on launching anew gadget — maybe an Android phone, maybe a tablet PC.
4. Tablets
There's almost zero chance of Apple's Tablet to feature here but other companies will definitely come with a Netbook equivalent powered devices while trying to capture market before apple raises the bar.
5. E-Book Readers
Who can forget E-book readers? B&N Nook is hot this season, and expecting more from Amazon Kindle  & Sony PRS, others won't be wrong. Android based eReaders will come along. And the most exciting, Plastic Logic QUE proReader is irresistible.
6. Go Green
Every company is taking going green seriously. Reduction in power consumption, smaller size, smaller packaging, eco-friendly ways of production, is all in vogue.
This year's CES is making "green" official by scheduling green-specific conferences and green gadget show-and-tells. The show's governing body, the Consumer Electronics Association, has also promised to buy carbon offsets and donate $50,000 to the Las Vegas police department to invest in electric vehicles.
Most Interesting Gadgets To Watch at CES 2010
Nikon Coolpix S1000pj  : Why settle for a basic camera when you can get a projector built in?

SilverPAC's Evolution 5500: watch TV on the couch while also accessing content from your PC.

ATI Radeon 5870 : World's Fastest Graphics card gets demoed for DirectX11 gaming ready to beat your imagination.

Audiovox's FLO TV Personal TV: Why sit and watch when you can carry your TV? The device is powered by 3.5″ capacitive screen and Qualcom's MediaFLO technology priced at $249.99, plus an $8.99 monthly.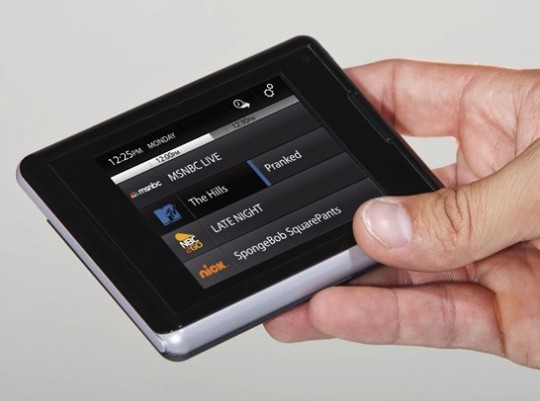 Crystal Cable's Arabesque Speakers: Loudspeakers can be trendy too. This new Crystal one employ a glassy look with high power ouptut. The innovation lies in the re-tooled glass that provides great sound while still omitting the wadding. Crystal's Arabesque speakers are available now at pricing of $65,000 per pair. he geometry is excellent for acoustics and the panels are glued with invisible, UV-resistant polymers.
The Arabesque is a passive two-way design with a 1.6kHz crossover frequency, 4-ohm nominal impedance, 450-watt RMS power handling, frequency response of 27Hz to 100kHz -3dB, <0.5% THD at 1kHz and a voltage sensitivity of 93dB. Max SPLs are 115dB and the weight is approximately 80kg.

NetGear's Stora: This is one state- of the art NAS with hot-swappable 1TB drive, but it also has room for another 1 TB drive.
That's not all, stay tuned for Hybrid cycles and all the stuff that we mentioned  in trends. The complete list of gadgets is on the CESweb. Stay tuned for more updates.