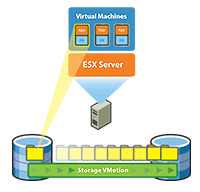 VMotion, a VMware product, provides seamless OS Load balancing. VMotion allows individual virtual machines to be dynamically moved to another VMware server without impact to users.
Cisco and VMware  announced a method for using VMotion across data centers that are located as far apart — 200 kilometers.
Users have been pushing VMware to offer a method of allowing VMotion to be used between data centers, and this reference architecture is a step in the right direction. But it is only a step and not a true failover technology. It does not replace VMware's disaster recovery product, Site Recovery Manager.
The long-range Vmotion technique was originally demonstrated at Cisco Live! But VMware formally announced support for it. It can be used with Cisco switches that support VLANs, namely the Catalyst 6500 as well as the Nexus 7000. It requires that users implement VMware's latest product, vSphere.
The current reference design provides only what its makers refer to as "Disaster avoidance" not "disaster recovery." Long-range movement of a virtual machine using VMotion must be performed manually (although users could write scripts to move VMs.)
As per Cisco:
VMotion solution and CiscoLive!, we have been working dilligently with VMware to develop and refine the solution.  Inter-data center workload mobility has a lot of moving parts involved.  Essentially, you need to be able to address three areas:

Mobility at layer 2
Mobility of the data, since there is seldom value in moving the workload if it loses access to the data it needs
Mobility at layer 3 and of services
Technical issues with the network and storage have yet to be solved to allow VMotion to support more automated long-distance failover. These include an inability to maintain an IP address if a VM is moved from one ISP to another, for instance from a data center in New York to another in San Jose. Likewise, storage is a problem. Until storage vendors come up with a way to support active/active SANs for the same VM moved between two physically far locations, no-latency failovers won't be possible between data centers.
Some of the features are better found in Oracle's VirtualIron.
How good is this new Technique?
This technique is not recommended, and not supported by VMware, when users have Disk Raw Mapping (DRM) turned on and used with clustered servers on either side.
All that said, for Cisco users wanting to deploy vSphere, this design can be practical in helping them manage VMs between data centers. It can be used for disaster situations where users have warning (tornadoes, hurricanes). It can be helpful for load balancing applications between data centers to offset an expected traffic spike. It also represents major progress on the network portion of the long-range VMotion problem.
The reference architecture is available for  from Cisco's blog.