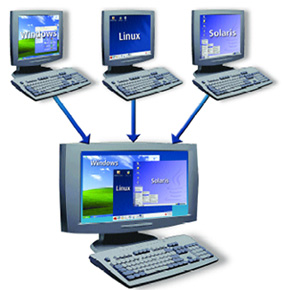 Virtualization is powerful, cost-effective and easy. And thanks to latest hypervisor improvements its fast too.
– What if you could use your existing Windows computer, that already has all your favorite programs installed, and turn into a virtual machine?
– What if you could virtualize the Physical PC and make it portable inside any virtual machine running on a different system.
This guide will help you achieve this in an easy way and you can use the created Virtual HDD with any software: Virtual PC, Parallels, VMWare, Virtualbox, etc.
Here are the possible combinations:
1. You are running Windows 7 and you want compatibility of XP softwares.
2. You are running Mac (Snow Leopard) and you are migrating from Windows/Linux to Snow leopard permanently. In this case follow this guide: VMWare Fusion 3.
3. Running Ubuntu or any other Linux distro inside Windows or vice-versa.
Let's start.
Step 1. Download
Microsoft's Sysinternals has made an application called Disk2vhd, that lets you easily migrate an existing computer to a virtualized hard drive (VHD). It's a tiny utility doesn't even require installation. Download here
Alternatively, you can use VMware Converter too (for Windows, Linux, Mac Hosts). The procedure is almost same.
Step 2. Creating Virtual HDD
Run Disk2vhd, it will immediately show you all the drives and partitions on your computer that it can migrate to a VHD.  Simply select a drive that you wish to create a VHD file from and click Create. Disk2vhd will convert the hard drive into a VHD file even if the computer /drive is currently in use.
Wait while it finishes and creates .vhd file. This could take several minutes depending upon drive size.
Step 3. Run it in your Virtualization software
Take the .vhd file and run it in any desktop virtualization software: Free Windows Virtual PC, VirtualBox, or VMware Player or paid softwares like Parallels, VMWare, etc.
Tip: If you have Windows 7 running as HOST, you can mount virtual machine as a standard hard drive, and can even boot from it if your computer is running Windows 7 Ultimate.
You may use Disk2vhd to create virtual machines of your Windows XP, Windows Server 2003, Windows Vista and higher machines, including x64 systems.