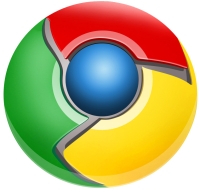 The current release of Chrome – 3.0 is not extendible or much developer friendly. Which beats Chrome way back as compared to Firefox. Google is brining the next big change in Chrome 4.0, that will accelearte the adoption.
Era begins with the Bookmarks synchronization service that comes as part of Google Accounts(released few days back). That service makes its first appearance today with the first Dev build of the browser to bear the number "4." The announcement that Google's open-source Chromium team had developed a library for hooking into Google Bookmarks came just two weeks ago.
Google released the latest build of Chrome 4.0.201.1 to Developers. The latest update contains all the fixes and changes from previous build 3.0.197.11 and adds a new feature – bookmark synchronization, which can be used by starting Chrome with the "–enable-sync" flag and checking out Wrench->Sync my bookmarks. A new test by CNET U.K. has found the pre-alpha version of Google's Chrome browser, under the developmental title Chromium, is 34 percent faster than Safari 4.0.3. So it's worth to try the latest build.
Download Google Chrome 4.0 :
To download Chrome 4.0.201.1 follow this link.
To download Offline Chrome 4.0.201.1 installer follow this link.
According to Anthony Laforge, technical program manager, Mountain View, CA. " We've officially bumped Chromium to 4.0.x to reflect our code freeze point for 3.0. There is still a bit of work that needs to be done for 3.0 in terms of stability and fixes, and to that end we will be pulling changes into the 195 branch (what will become the stable release). Keep your eyes out for future updates on the beta channel,"
Of course, that "4″ is not supposed to mean anything specific. Like a
child who finishes cleaning his room the moment he shouts, "I'm finished," there's no specific reason for us to assume that Chrome 3, the subject of both the Dev and beta channels, will necessarily
Full Article – Google Chrome 4 – The Beginning of cloud sync and Chrome OS
Download Google Chrome 4.0 - The Fastest Browser on Windows, Mac

,