Smartphones have become battery hungry, thanks to the multitasking CPU/ Network hungry apps that we've now grown addiction to. Ofcourse there are some great tips on extending Laptop, Phone battery lifes, but lets go beyond them and talk something which can actually save juice to the extreme limits.
Android being open, certain OS-level hacks can be employed to save battery for those last hours when you need it the most.
SuperPower is a battery saving utility that allows you to set certain variables so when a certain threshold is reached the app will perform a certain feature.
Main features that the app has control over are:
Cellular data
Wi-Fi
Bluetooth
CPU speed * ROOT *
Bands (2G/3G) * ROOT *
It can change the above features based on the following variables:
Screen state
Wi-Fi network connection state
Lock screen visibility state
Download speed
Foreground application
Tethering state
Low battery state
Charging state
Schedule data connection to be available at certain times
2G/3G switching is supported in two different ways: RIL injection (highly experimental, any ROM, possible side effects) and Sidekick (AOSP ROMs signed with platform test keys)
How Power Saving on Android Works
SuperPower attempts to save battery power by controlling various power hungry components and features of the device. Everything in this app is Event-driven rather than polling, which makes this app itself play nice on battery.
App compatibility: App should work on any android devices, but since the app is in beta stages, it gaurantees few phones like Galaxy S, Nexus one, G1, Desire, Hero with OS 1.6+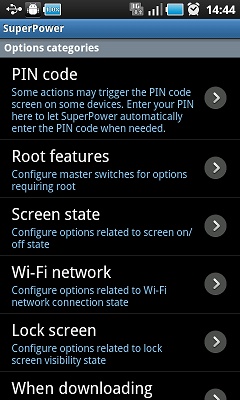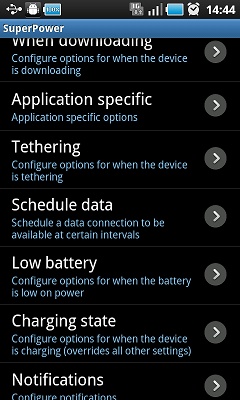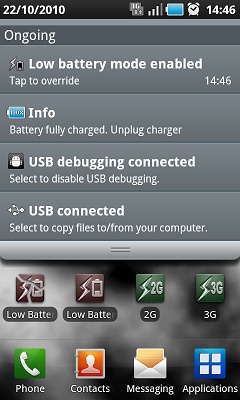 SuperPower v0.60 can be found on Market under the name "SuperPower XDA-BETA".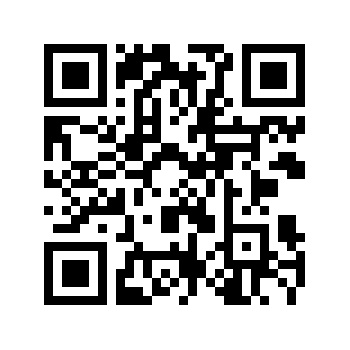 For more Tips, Tricks, Follow us on @taranfx on Twitter or subscribe below: