Google launched an overhauled, polished Market place few days back. Major improvements had been with the UI. A big step from a boring interface to the one like App Store.
Now, Google has made the latest Android SDK available, introducing a complete view of all the new features that "Donut" (Android 1.6) will provide.
Google had been revealing future plans as they proceeded, this is the first time they have been presented to the public bundled into a single package.
What's New – Feature Breakdown

New Android Market– This update, as mentioned earlier, completely redesigns the Android Market. It features new Top Apps pages, adds screen-shots to app descriptions, adds more intelligence to searches, thereby  improving the overall shopping experience.
Custom Gesture Support – A new tool in the SDK called GestureBuilder gives the developer the power to create entire libraries of new app-specific gestures. This will encourage developers to leverage Full MultiTouch int he new applications.
Better Camera App: The native camera app has been overhauled in design and get's new features. User can now switch between still and video camera modes easily, and look through the gallery. Additionally, it's faster, camera launches 39% faster, and there is 28% less time lag between consecutive shots.
Text-to-speech API– A multi-lingual speech engine called Pico made by SVOX is included in Donut. This was one of the earliest features shown off for Donut at Google I/O this year.
Previously, Google had removed the support of gesture control on Apple's request. But now as they became offical Rivals, it's here to compete.
CDMA networks– The CDMA mobile stack is now supported, in addition to the previous support for GSM. iPhone seriously lacks on this.
Universal Quick Search Box– Quick Search is like the iPhone's "Spotlight" OS 3.x search. Quick Search Box framework lets users search through the phone as well as the Web, pulling up browser history, bookmarks, music, contacts and other data along with results drawn from the Internet.
Battery "fuel gauge"– This new feature lists the battery consumption of each running application and service, letting the user fully streamline his battery consumption.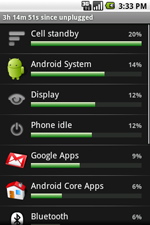 VPN support– Google finally thought about Enterprise. Users can configure and connect to L2TP/IPSEC pre-shared key-based or certificate-based VPNs, L2TP only VPN, or PPTP only VPN. This is agreat move for Enterprise corporate customers.
Minor Kernel Upgrade: The Linux Kernel has been updated from 2.6.27 to 2.6.29, the OpenCore 2 media engine is now supported, as are a greater number of screen resolutions such as QVGA and WVGA, and new accessibility plugins such as tactile or aural feedback.
Google's Xavier Ducrohet today said, "You can expect to see devices running Android 1.6 as early as October. As with previous platform updates, applications written for older versions of Android will continue to run on devices with Android 1.6. Please test your existing apps on the Android 1.6 SDK to make sure they run as expected."