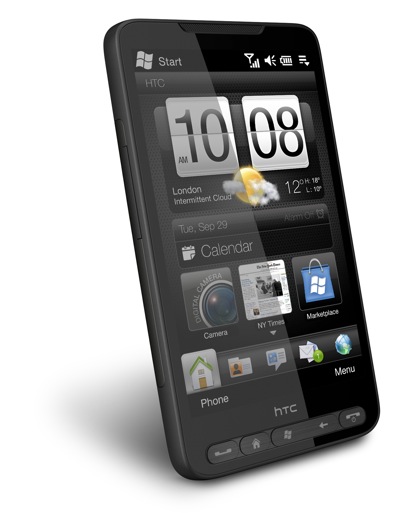 Almost every gadget manufacturer is making touchscreens larger but HTC took it to a new step. HD2 features a whooping large screen (4.3 inches WVGA 480×800 pixels), among the largest one would find on cellphones. [Motorola Droid features similar resolution] Uniqueness, another attraction of the screen is capacitive touchscreen, in fact first Windows mobile running Capacitive touchscreen, meaning we finally get pinch and zoom capability on this OS.
Overall Feel
The phone, looks large, but is actually not that bad to hold in the hand, thanks to pocket-friendly dimensions of 120.5x 67×11 mm.
The phone is smooth and rubberized on the back, and feels nice to hold. It slips nicely into the pocket as well, thanks to slim design with 0.43 inches  thickness.
Specs
On the Technical side, Phone is powered by Qualcomm's 1GHz Snapdragon mobile processor, the same that powers Sony Ericsson X10, X3.  Like HTC Hero, it also offers an HTC Sense user experience but on Windows Mobile 6.5 instead of Android. Other Specs include, Wi-Fi, Bluetooth 2.1, a 5-megapixel camera with Flash, a 3.5 mm headphone jack.
Multitouch, Apps & User Interace
Powered by a good 1Ghz processor, I expected it to do good with UI and Multitouch. And I must admit, I was deeply impressed. Opening applications was delight, they opened quickly, unlike other Windows Mobile 6.5 devices.
The UI is amazing, especially the weather app. Photos loads quickly and is very responsive.  The Opera browser comes inbuilt that replace dirty Mobile IE. As a result,  websites rendered well and were available to scroll around, and pinching and zooming reacted almost instantly, this proves the capacitive touchscreen was a great decision by HTC. The experience is very similar to that of iPhone. But, because of a larger display, I might actually endup rating it better than iPhone.
Websites actually looked glorious on the phone. And the good part, it supports Flash. The HTC Sense UI experience is far better than HTC Hero. It's now more realistic and smoother multitouch. Apps like Facebook, Weather, outlook, blah are integrated well and works like charm.
Here are few Videos from Other Sources that will give you better idea:
Verdict:
Personally, I have never liked Windows Mobile phones unless they are powerful. This one is indeed top of the line, with rich set o features and possibly the best Windows Mobile Phone ever created. this Phone Proves that HTC has ripped off bad parts of windows Mobile and replaced them with custom solutions with touchFlow and SenseUI. Overall, we're very impressed especially with the great Visuals, UI, High resolution, large Display that does multitouch too. How Does it compare to Motorola Droid vs. iPhone? We will compare 3 of them soon.
HTC HD2 is already Launched in Europe, Asia, and and US too.
I would highly recommend one.
Don't forget to subscribe to us below: