NASA's Mars Exploration Rover (MER) Mission is a robotic mission of exploring Mars, that began in 2003 with the sending of two rovers — MER-A Spirit and MER-B Opportunity — to explore the Martian surface and geology.
Opportunity, landed successfully at Meri
diani Planum on Mars on January 25, 2004,  three weeks after Spirit. Mission : Completion of the 90-sol mission, discovery of the first meteor on another planet, Heat Shield Rock (Meridiani Planum), and over 2 years studying Victoria crater. The rover narrowly survived dust-storms in 2007, and is now is on it's way to Endeavour crater.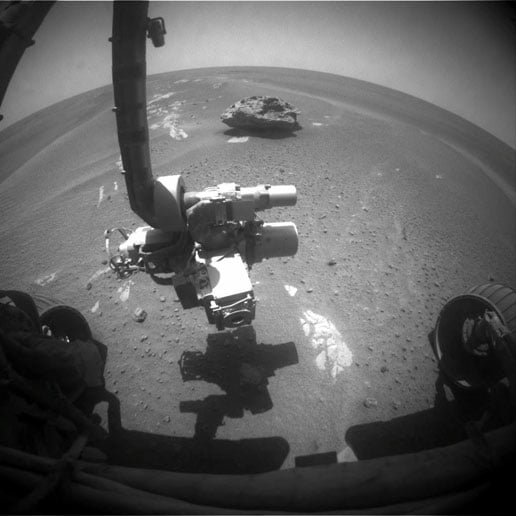 "Opportunity", while prowling the haematite steppes of the Meridiani Planum on Mars, has crept up on and photographed a mysterious space boulder or "cobble".
The interplanetary robot rover expert Astro boffins touts that the object may be alien in origin, rather than from the Mars.
What concerns NASA now is that if this object is confirmed to be of an Alienic origin, more life information about the Aliens can be obtained.
The boulder/cobble was originally spotted by NASA boffins in charge of the rover on July 18. Opportunity by that point driven well past the object, codenamed "Block Island" by NASA. The droid rover, which moves at a crawl, has since been laboriously creeping some 250m back on its tracks to get a proper look at the possible space rock.
NASA has now released close-up pics of "Block Island" and says that there are plans to confirm its alien extra-Martian origin by use of Opportunity's alpha-particle X ray spectrometer. Personally, we here on the Reg space desk are hoping it turns out to be a cryptic "nanodiamond" from the mysterious ureilite mother-planetoid, like the pieces discovered in the Nubian desert here on Earth recently.
Meanwhile, Opportunity's companion rover Spirit remains bogged down in a sand trap in the Gusev crater on the other side of the red planet. NASA brainboxes are engaged in a lengthy series of trials using a test rover in a sandbox on Earth, attempting to figure out a way of getting the trapped droid moving again.
Both Spirit and Opportunity have, however, continued to operate many times longer than they were expected to. NASA engineers originally thought that the Mars-prowling machines might manage to travel as much as a kilometer from their landing sites over lifetimes measured in months. In fact both machines remain in operation well over 5 years from landing. Opportunity has moved more than 17km as of the last update, and Spirit almost 8km.
In order to take the research further, NASA now plans to despatch a new, much larger – Humvee sized – nuclear powered rover (called the Mars Science Laboratory or MSL) to Mars in 2011, following development and funding problems. The MSL had originally been planned to launch later this year, but due to higher expectations from the project, it had been delayed.