The current market is flooded with lost of eBook readers. Which one is for you? Kindle 2 has gone international reducing the price. Sony PRS has elegant readers, Asus Dual screen readers.
Barnes and Noble helped us a lot: They cleared all confusions  by unveiling a clear winner and making eBook Readers worth buying. With Nook one can access over one million eBooks, eNewspapers, and eMagazines in two different ways: WiFi and 3G.
Last time when I reviewed Sony PRS 600, Sony was leading the market with some great features like support for almost all formats including MS Doc. Nook doesn't go that further but does a great job, otherwise.
This device is sharing friendly. You can lend books to friends for 14 days. This is something unique for ebook reader platform something that makes it almost the same as a paperback which is cool.
To start with, lets look at specs of the device:
Dimensions: 7.7 x 4.9 x 0.5 inches and 11.2 ounces (317 grams)
Data: Support for AT&T (for US) and WiFi networks (free WiFi access at B&N stores)
OS: android
Storage: 2GB storage with microSD card slot
Display: 3.5 inch color touchscreen lower display
Multimedia: MP3 player (mono speaker) and 3.5mm jack
Battery: Removable and rechargeable battery(chargeable via MicroUSB). Lasts upto 10 days
Misc: Integrated Merriam-Webster Collegiate Dictionary
This is the first fully-capable eBook reader that leverages Android OS. We all know, android holds the key to future of Open Source mobiles, and we've seen Android on Desktop Phones (Smart touchscreen VoIP), but taking it to eBook readers sounds like a great idea.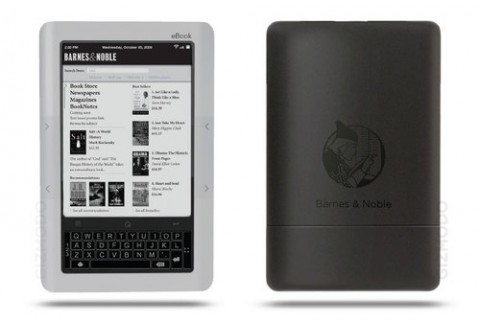 With the Android-based OS developers will be able to customize the device to add even more functionality, perhaps. Or atleast good applications that you get on Android based phones.
File Format support:
The Device does more than Kindle 2 in this area. Via USB, you can transfer all your documents to the reader. Formats supported iclude: ePub, PDB, MP3, PDF, and JPG, PNG, GIF, BMP, etc.
Support for ePub sold me on the ebook reader so stay tuned for my full Nook review as soon as it arrives, hopefully in November.
Overall Feel and Navigation:
Its sleek and good to hold. The front is blazing white and rear is grey in color. The surface looks like a polycarbonate fiber soft feel, better than kindle and Sony PRS. With a weight of 11.2 ounces (kindle is 10.2), it could feel bit bulky during long reading.
The navigation buttons on left and right are easily accessible when you are holding it with 2 hands. With Kindle, because of keyboard, I never liked to move my finger across the device to reach a specific navigation button. Buttons are placed just right in Nook. However, absence of keyboard didn't feel like a big deal. The onscreen keyboard serves the purpose well.
There is a button 'n' that mocks iPhone's Home button. When pressed, it turns the color screen on. On the landing home screen: The Daily , My Library, Shop, Reading now, settings appear.  the daily brings news from certain good sources. My library lets you navigate through titles, Shop is for online store, Reading now aids you in navigating across current book like chapters, pages and do some cool stuff like bookmarks, text selection, change font size, etc. Settings lets you customize display settings like default font, wallpaper, screensaver, etc.
The Display:
As mentioned, it is a dual-screen device.  A color LCD touchscreen below the electronic paper display is good for navigation. This significantly reduces the pain of navigating across different books. You can easily flick through the titles and select with a touch. to add tot he beauty, it features high resolution 6 inch E Ink® display. The readability of Text is simply superb. If you have ever tried Kindle2, you will find readability and smoothness of text much better here.
Shopping Books online:
Getting books is pretty easy, Amazon kind of buying and downloading. Popular titles sell around $9.99. In case you delete or lose any of the data, you can download them again, unlimited times. Free titles are also available though its only few thousands. But you can always extend it via your own PDFs.
Android Apps?
Today, I don't see a possibility of installing Android apps on it. But it's not far till someone hacks and jailbreaks this device.
Update: I heard of Rooting/ Jailbreaking is already possible. So that opens up gateways.
Bottom line:
All said and done. I loved this device. Only bad side could be the weight, or may be it's just me Price set a t $259, it's all worth.
Subscribe to Twitter updates, or RSS, join Facebook fan page for more Reviews and updates.

Watch the Official video:

Did I miss something? Do let me know. Feel free to ask questions, I`ll be happy to answer. I have this device with me for 5 more days, then i`ll be returning to the source 🙂
Liked the post? Don't forget to Subscribe to Twitter updates, or RSS, join Facebook fan page for more Reviews and updates.