At yesterday's WWDC 09 keynote speech Apple announced the release of Safari 4 web browser for Windows and Mac. Apple claims this browser is "the world's fastest browser" … let's find out.
I'm always suspicious of all claims that are along the lines of "world's blankiest blank," especially when those claims come from Apple.
So, is Safari 4 the fastest browser? Let's test out Apple's claim by pitting it against Google Chrome.
I'm using my standard test bed – QX9770 Core 2 Extreme running at 3.2GHz, with 2GB or RAM on a fully up-to-date Windows Vista Ultimate 32-bit platform.
I'm putting Safari 4 against Google Chrome because that's currently the fastest browser on the block. If Safari 4 can beat that, it earns the title of "world's fastest browser." If it can't beat Chrome, then the claim is puff.
As usual, two tests – SunSpider JavaScript, and V8 benchmarks.
The Results:
While it's clear that Safari 4 is fast, and it's almost caught up with Chrome in the V8 benchmark, Safari 4 is clearly NOT the world's fastest browser.
Benchmark Safari 4 vs. Firefox 3.5 vs. chrome 2.0 vs. Chrome 3.0
Google Chrome still outperforms Safari 4.  The Firefox 3.5 was as bad as 1.6x Slower than Chrome 2.0.
Also, I did some tests with chrome 3.0 with firefox 3.5 and Safari 4.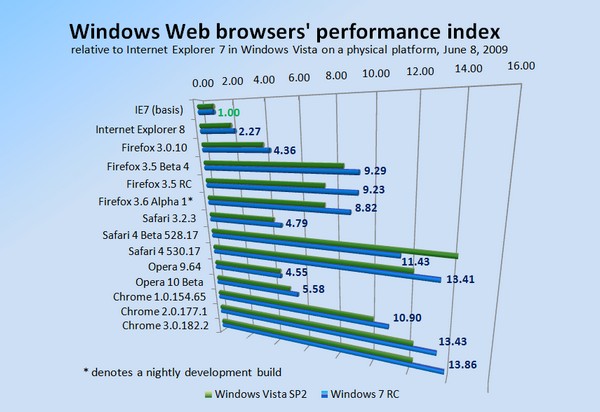 Ahh, Chrome 3.0 is slick, don't even look at other browsers 🙂 Its 1.8x times faster than Firefox 3.5 and 1.35x times faster than Safari 4.