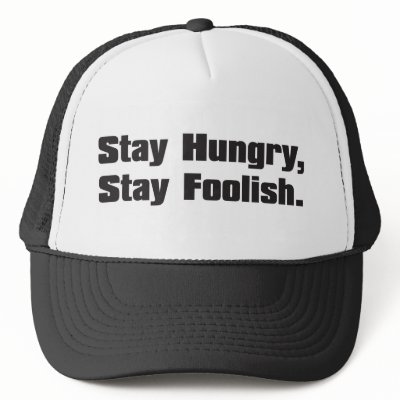 Back in time, when I was first Inspired by Steve Jobs, I somehow caught his carrier frequency and tried to tap it into a little poem. This intends to convey the same message but in a new way.
Birds are to fly, humans are too dry.
Ship sails, Ruby rails
Why the heck this irony?
Its against the serenity.

You know what metal you are,
You know what you aspire!
Still waiting for a Miracle?
When you know, there's No Real Oracle.

Stay hungry, Stay foolish
Its upto you!!!

-taranfx
— MEANING —
Things that are defined by Nature, go in a way they are supposed to be. Its only the human nature to behave strange on different occassions.
If its a fault in humans, let's talk about the man made stuff, Even that follows the command, works in a way it's meant to be. It does its best, technically, though it lacks Intelligence. ("Ruby rails" here refers to programming languages).
Why in this world the problem is with humans? Is it that we are too much supressed by Ego and Un-Willingness?
You and you alone know what your capabilities are. You know how far can you go to achieve what you aspire, and how much can you prespire to achieve it. Definately, its a measure of your desperation.
We all know, There are no Miracles, there's no reason that you don't make effort to achieve the Goals. There is no reason to rather sitback and rely on fortunate luck, which might not come out to be that fortunate (unluckily).
Bryan adams one said, "There ain't no santa clause. There ain't no fairy tales, Its a lonely road to paradise". You cannot predict the future… Oracle won't come and help you in that. You gotta make it on your own!!!
Stay all your life aspiring for something without trying hard enough to get it, without taking enough risk.
What are you afraid of? Is it the Death?. If is, take my word, don't be, coz you have no idea when it is coming your way. You are already Naked, there's no reason to be afraid of not trying hard enough and taking the required risk.
By not doing this all, you ain't foolling anybody. You are fooling yourself!
Stay hungry, Stay Foolish. It's upto you!
"It had been true when years back Jobs uttered the quote, and It will still hold for generations to come."
-taranfx
Now as Steve Jobs takes the World to new heights, let's memorize this Legend's quote Forever.