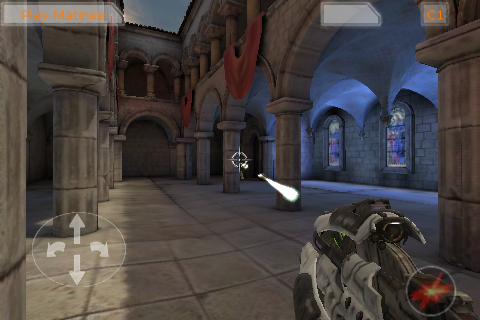 Gaming on iPhone is snap. We've seen so many beautiful 3d Games on the platform that run so flawlessly. Porting games to iPhone is in-vogue, the best example is Driver that made its way from PSX to iPhone.
In the past Quake 3, Doom and other gaming engines had been ported well to the iPhone. Unreal 3 engine powers modern DirectX 10 games like Gears of War 2, Unreal Tournament 3, now runs on an iPod Touch,  iPhone 3GS.
The game is fully playable using a modified Unreal Tournament level. Mark, the developer behind porting, has created a virtual thumbstick on the for providing screen controls and other controls like tap the screen to shoot.  In practice, the controls work well.
Check it out running:
Surprisingly, the frame rate was great, a smooth gameplay. The game uses OpenGL ES 2.0, the horsepower behind iPhone 3GS.
Epic games have no plans for porting this game officially, so expect this to be only a jailbroken app.
And it's not just about iPhone support. Mark told anandtech that in CES we'll see Unreal Engine 3 on another mobile platform, hopefully. Did he mean Nexus one? Running Unreal 3 Engine isn't a platform specific thing, it's about bringing Unreal Engine 3 to the entire portable market. For now, Mark is planning to license this gaming engine to general public based on the open SDK available. What we are not sure of is when and how Epic will expanding it's UE3's horizon to mobile market.
iPhone 3GS is the first step in mobile gaming with 65nm technology, Intel is coming up with its 32nm chips and Nvidia is pushing mobile graphics too, both targeting to squeeze size and hence increase capabilities. With UE3 on the iPhone, we will eventually see better games on almost every platform, expect the unexpected.
[via Anandtech]