Optimus Prime has returned to save the World from The Fallen!
Microsoft lost it's long built impression with Windows Vista. Vista is the best example of a Software development failure. It showed the world, no matter how good your hardware is, your software is crappy, you cant do anything, it will fail to perform.
Windows 7 RTM [Final] Review. Benchmark vs. XP, Vista
Microsoft learned lessons, and this time before coming up with Launch of Windows 7, they had their Home Work done properly. What does it mean for you? You will get a better OS than what you had previously. I don't even want to compare 7 with Vista. The fact is that most corporates and home user never moved to vista or upgraded back to XP. The real question is will XP users migrate to windows 7 ? Read on to find out.
It's stable, smooth, and well-cooked, brings-out new graphical features — a new taskbar that is inspired from Mac OS X dock, and  much improved security enhancements and device management that make it both easier to use with inherited security.
The important aspect – it won't require the hardware upgrades unlike Vista. As buggy and irritating as Vista was, Windows 7 isn't. Instead, it's the brave, mature successor to Windows XP, and finally places it on competition with the best operating systems like OS X and Linux.
Windows 7 Flavors – Microsoft, like in Vista, is offering six versions of Windows 7: Starter, Home Premium, Professional, Ultimate, OEM, and Enterprise.
Platform – Windows 7 will run both on 32-bit and 64-bit systems.
Hardware Minimum Requirements –  The minimum requirements for 32bit are: 1 GHz processor, 1 GB RAM, 14 GB available hard-disk space, and a DirectX 9 graphics device. 64-bit – Atleast 1 GHz processor, 2GB RAM, 18.5 GB of free space , and a DirectX 9 graphics device with WDDM driver.
Compare that with that of Vista and XP. It's pretty near to XP. So most PCs that can run XP, with minor or no upgrades, can run windows 7. Some users have claimed to have limited success running the Windows 7 with less than 1 GB of RAM, but that's not recommended, though it will run. If you're not sure if your current computer can run Windows 7, you can download and run the Microsoft Security Essentials from Microsoft.
Optional – A Touch-screen monitor is required to take advantage of the native touch features.
Installation – New and Upgrades
You can buy a new computer with the operating system already installed, upgrade from Windows XP or Vista, or do a clean install on a computer the user already owns. A Typical installation takes around 30 minutes, but that will vary depending on your Hardware.
Features:
Enhanced Taskbar and Aero Peek UI
Now this is the first thing that might attract you – All new Look – Mac OS X like feel. This is a full replacement OS, and more than just "Vista done right." From driver support to multi-touch groundwork for the future, from better battery management to the most easy-to-use interface Microsoft has ever had, Windows 7 is surely full-baked.
The first thing that you would probably find eye-candy is the new taskbar. This is one of the best improvements. It features pinned programs using large, easy-to-see icons. Mouse over one and all windows associated with that program appear in preview. Mouse over one of those preview panes to reveal an X to close the window. Hover over the preview to show a full-size preview of the program, or click on the window to bring it to the front. Because of the button size, people with touch screens should find it especially easy to use. Though I prefer changing this to conventional takbar items where it's wider than the default button and Grouping set off. I never liked Grouping in XP too, it makes things slower. It's totally a personal choice.
Jump lists is another new taskbar improvement that make recently opened
documents easier to get to. Right-click or left-click and drag on any program icon pinned to the taskbar to see a list of files that you've recently used in that program. In Media player, it shows recently played media – Music, video, photos, playlists. For IE, it shows recently visited Web sites, although it doesn't seem to work in Firefox, yet.
Show Desktop icon got a new place- the right corner. Mouse over to the right corner. Hovering over the Show Desktop box reveals the desktop, and then hides it when you mouse away. Click on the box to minimize all windows.
Resizing windows is much more simpler than before. To resize, Drag a window to the top of your monitor to expand it to full screen. If you want to work in two windows simultaneously, drag one to the left edge and one to the right edge of your screen, and they'll automatically resize to half the width of your monitor.
Want to return to normal size ?
Drag thew window away from the top or sides will return it to its original size.
Windows 7 comes with bundled theme packages, which makes it much faster to change. From the Desktop Right Click >,select the theme under Appearance and Personalization. You can customize the themes to get different colors for taskbar, etc, wallpaper rotation, sound packs. You can also download them.
Windows Media Player
Windows 7 comes bundled with WMP 12. I didn't like it much from UI though. It's not as easy to use as was WMP11. Aprat from that, you can now stream media files from one Windows 7 computer to another, across the Internet and out of network. Even better, the setup procedure is dead simple. A New definition to Media sharing/streaming.
Streaming – In Windows Media Player, there's a new Stream option. On toolbar, Click Stream, and you're presented with two choices. Both require you to associate your computer with your free Windows Live ID. When you've associated a second Windows 7's WMP with that same ID, you can remotely access the media on the host computer. Windows Media Player's mini mode looks much slicker, emphasizing the album art–sometimes at the expense of clearly seeing the controls, but it's a definite improvement.
Another WMP improvement is the new
Device Stage
makes managing peripherals significantly easier, combining all your installed hardware — printers, phones, and portable media players, USB drives into one window. Device Stage support for older devices makes one of Windows 7's best features applicable to peripherals and externals that don't need to be upgraded. One annoying change is that Bluetooth driver support no longer comes baked into the operating system. If you need a Bluetooth driver, you'll either need the installation disc on hand or you'll have to go download it.
Search
Search has also improved. The Proof:- Files added to the hard drive were indexed so fast that they were searchable less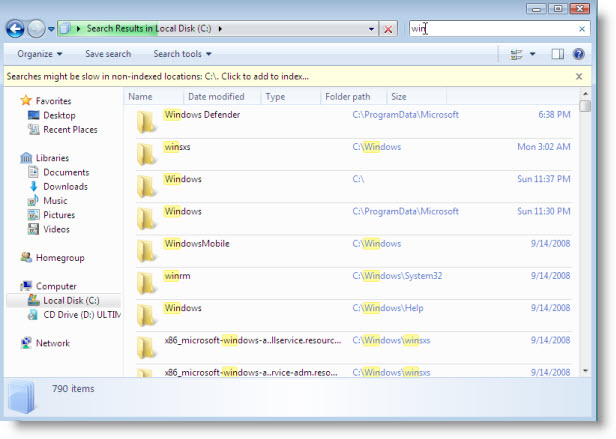 than 5 seconds later. Search result snippets now include a longer snippet, and highlight the snippet more clearly. It's a useful feature for anybody who wants to find files faster. However, the search field is available by default only in the Start menu and in Windows Explorer, and cannot be easily added to the taskbar.
Touch screens
Touch-screen features worked surprisingly well. The hardware sometimes misread some of the multitouch gestures, occasionally confusing rotating an image, for example, with zooming in or out of the image. Overall, though, there were few difficulties in performing the basic series of gestures that Microsoft promotes, and this places Windows 7 in an excellent position for the future, as more and more computers are released with multitouch abilities.
XP mode
Probably if you are upgrading to 7, your business and home applications should run on 7. Windows 7 should run most of you apps as it is. If they fail to, 7 has a special feature to tackle this – XP Mode. XP Mode creates a virtual environment within Windows 7 that should assuage any fears of upgrading without backwards compatibility.
Important:
To use XP Mode you should have a processor with Hardware vistualization support – Intel's VT or AMD's V. Motherboards older than two years probably won't work, and even if you do have a newer one you might have to go into your BIOS and activate Hardware Virtualization.
Security – How Secure is Windows 7 ?
The crappy troublesome User Account Control, or UAC, is back in Windows 7.
But the good news is, Microsoft has tweaked the feature so that it's less intrusive, but it's not clear whether that means you're actually more or less secure than you were in Vista. UAC was one of the biggest changes in Vista. It tightened program access, but did it in such a way as to frustrate many owners of single-user computers. Windows 7 provides more options for user customization of UAC.
The default setting is to notify users only when programs try to make changes to the computer, one step below the most restrictive setting of Always Notify. Under Always Notify, anytime a program tries to access the Internet, or you try to make changes to the computer, Windows 7 will require user confirmation. The second-least restrictive option doesn't dim the desktop when UAC is activated, and will only notify the user when programs try to make changes to the computer. When the desktop dims, Windows 7 is locking it down and preventing access. Never Notify is the most relaxed option, and is only recommended by Microsoft for programs that aren't compatible with UAC.
UAC also displays a blue banner when confronted with a program from a known publisher versus a yellow banner and exclamation point when the program is from an unknown publisher. The number of clicks it should take to use UAC safely has been reduced, However, it's important to note that it's a less-aggressive default posture by UAC.
A less glitzy, but no less important, change to how removable drives are handled also can impact your media. Unlike Windows XP and Windows Vista, Windows 7 will no longer AutoRun external hard drives and USB keys when they're connected. This kills off a risky vector for malware infections that has been the bane of many security experts.
It's possible that Windows 7 will eventually ship with additional programs, including the revamped Live OneCare antivirus and antimalware program now called Microsoft Security Essentials, but Microsoft has given no indication if that will happen. For now, users will have to download a third-party antivirus and antimalware program, although the Windows Firewall remains intact. As with many features in Windows 7 that have been carried over from Windows Vista, people will notice there's far more granular settings control than before. Features like filtering outbound traffic, which were available in Vista but not exposed, are easier to access in Windows 7.
Performance
Windows 7 feels faster than Windows XP and Vista, but it turns out that's not always the case, sometimes, it's the slowest out of the three operating systems. CNET Labs, ZDnet tested: Windows 7 RTM build 7600, Windows Vista with Service Pack 2, and Windows XP SP3.
Hardware used: Core i7 quad core @ 3.2Ghz
Graphics– ATI Radeon HD, 6GB RAM
Memory management and Cache performance
With Vista, Microsoft introduced a new technology called SuperFetch, for caching applications and speeding up boot times. This feature preloads frequently-used applications into memory, so they can be accessed quicker when they're needed.
For conventional magnetic hard drives, most common, this technology makes sense. But if an SSD is used for mass storage, it's better to turn SuperFetch off. The superior access times of SSDs mean they launch applications much faster than magnetic drives, so SuperFetch makes little difference.
In the RTM version (7600.16385), only Defrag is in fact inactive for SSDs — SuperFetch and ReadyBoost start just as they would with a magnetic disk.
The SuperFetch feature in Windows 7 differs significantly in approach and cache usage from its counterpart in Vista. Under Vista, the caching of applications starts immediately at launch. As the graph below shows, after three minutes just over 1GB of memory has been allocated. In Windows 7, SuperFetch starts after five minutes and after 10 minutes a little more than 600MB has been allocated. By that point, Vista's SuperFetch has allocated more than 1.5GB.
Even without SuperFetch turned on, Windows 7 makes fewer demands on cache. For operating system-related functions, it uses 333MB, while Vista without SuperFetch uses 519MB of cache.
Windows 7 clearly makes do with fewer resources, so its cache usage is significantly lower than Vista's.

Overall Performance: PCMark Vantage Benchmark
Benchmarking the applications that are integrated into Vista and Windows 7.
The benchmark is based on several usage scenarios, with the default PCMark Suite simulating everyday PC usage. Here's a key areas of the tests:
Memory utilization, TV, Movies, Gaming, Music, Communication, Productivity, HDD
More information about PCMark Vantage benchmark is available in this PCMark white paper.
Roughly, every application will work 20 percent faster under Windows 7 on average, bare minimum.
Verdict
Windows 7 performs better than Vista and is faster than XP. Although XP is still more capable for devices with limited/outdated CPU, memory and graphics.
Faster system startup and shutdown, improved parallel processing(specially for Multi-core), and faster loading of drivers and operating system components.
Enterprise users will observe the faster login to a domain.
Windows 7 is more cache-efficient because of improved display drivers. Even with multiple open windows, the memory usage of the Desktop Window Manager, DWM remains same.  This is so because the video card's memory taking on the load of opening of additional windows. Fact is, under Windows 7 this load is half of Vista. Direct2D, further speeds up 2D graphics rendering. For graphics cards containing ATI and Nvidia chips, this is not an issue. However, these drivers are not yet available for older Intel graphics chipsets and pretty helpful for them.
Users can employ the built-in Windows 7 DirectX 11 interface to access the graphics power of the GPU using appropriate graphics hardware – useful to those who provide video-encoding tools.
In Windows 7, Microsoft has succeeded in providing an OS that's likely to meet the performance requirements of consumers and business users alike. The early signs are that Windows 7 will enjoy a much better take-up than Vista.
Windows 7 looks like the operating system that both Microsoft and its consumers have been waiting for. By fixing most of the perceived and real problems in Vista, Microsoft has laid the groundwork for the future of where Windows will go. Windows 7 presents a stable platform that can compete comfortably with OS X, while reassuring the world that Microsoft can still turn out a strong, useful operating system.
Subscribe to Twitter updates, or RSS, join Facebook fanpage for more Tech updates.