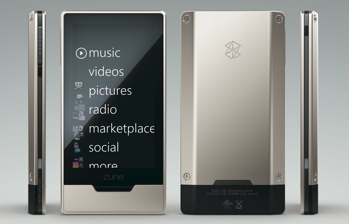 After 100s of rumors, it's finally official. The most anticipated Microsoft's device this year.
Microsoft is officially unveiling the last pieces of the Zune HD puzzle…which were already leaked. Release date is September 15th, but the 16/32GB Zune HD can be pre-ordered today via Amazon, Bestbuy, Walmart, Microsoft Store
It will come to retail stores on September 15 — in 16 GB ($219.99) and 32 GB ($289.99) capacities and five color variations.
If the numerous recent hands-on videos of the Zune HD in action haven't been enough to sell you on the device, select stores in Atlanta, Boston, Chicago, Dallas, Houston, Miami, Minneapolis/St. Paul, New York, Los Angeles, Philadelphia, San Francisco, Seattle and Washington, DC will have demonstrations on August 22 and 23.
Based on the Zune's past, we'd bet those other colors are red, blue, and green.
Microsoft isn't releasing the price of the accessories, like that HD-outputting dock we're all going to want, but luckily the rest of the current Zune lineup's accessories will also work with the Zune HD. The only other new detail is that select Best Buy outlets will have Zune HDs to play with on August 22nd and 23rd, which is good news if you haven't gotten to play with one yet.
Zune's site details out the plans –
Pre-order Zune HD in 16GB Black and 32GB Platinum through http://www.zune.net/zunehd from Amazon.com, Best Buy,Walmart and Microsoft. Beginning September 15, at http://www.ZuneOriginals.net, both 16GB and 32GB capacities of Zune HD will be available in five different colors with the option to customize your player with one of 10 new engravings designed by guest artists.

Zune HD is the first to combine these features:

• Built-in HD Radio™ receiver. Allows you to listen to higher-quality sound than is available from traditional radio channels, as well as access additional programming through HD2 and HD3 multicast channels from many of your favorite local FM radio stations at no extra cost.

• HD video output capabilities. Supports HD video playback from the device through a premium HDMI A/V docking station (sold separately) directly to an HD TV in 720p, making it easy to enjoy better-than-DVD-quality video on your own big screen at home.

• OLED touch screen. Allows you to easily flip through music, movies and other content. The 3.3-inch glass screen and 16:9 widescreen format display (480×272 resolution) offer a premium viewing experience.

• Built-in Wi-Fi. Allows for browsing, streaming or downloading new music from Zune Marketplace.

• Internet browser. Full-screen Web browsing, optimized for the multi-touch screen with zoom-in and zoom-out gestures.

• Accessories, at home and on the road. Zune HD and AV Dock charges and syncs players while playing supported 720p HD videos on HDTVs. Play HD Radio, music and podcasts from your Zune HD device through your car stereo using the Zune Premium Car Pack.

WHY Zune HD Pre-order now to be one of the first to experience the new Zune HD's advanced design,innovative technology and rich multimedia capabilities powered by the NVIDIA Tegra™ chip ultra low-power HD processor.

PRICING: Zune HD 16GB: $219.99 (estimated retail price); Zune HD 32GB: $289.99 (estimated retail price)

WHEN: Pre-order starting Thursday, Aug. 13. Purchase in stores on Tuesday, Sept. 15.

WHERE ONLINE: http://www.zune.net/zunehd

WHERE IN STORE: Place a pre-order in person at Best Buy beginning August 16. If you want to sneak a peek, visit select stores in Atlanta, Boston, Chicago, Dallas, Houston, Miami, Minneapolis/St. Paul, New York, Los Angeles, Philadelphia, San Francisco, Seattle and Washington, D.C., areas on August 22 and 23.