Screencasting can be a handy widget for a no. of things: preparing a Tutorial, demonstrating a product, broadcasting your favorite software trick/hack to internet. But when it comes to choosing one to your needs, it's not hard to be confused.
In this guide, I`ll walk you through Industry's Best Free Screencasting tools along with the paid ones. We will cover all three platforms: Windows, Linux, Mac OS X.
FREE Tools:
1. CamStudio (Windows) Taranfx's Recommended

CamStudio is a free and open-source offering for the screencasting market. You can record all or part of your screen, customize cursors and text annotations, adjust the quality of the video output, and save screencasts as AVI or SWF files. The interface is easy to understand, and you won't be overwhelmed with extensive options. In a nutshell, it's a free and effective tool for creating screencasts without a lot of bulk or expense.


3. ScreenToaster (Web-based, Free)

Whether you don't screencast enough to want to install a dedicated application or you just need to crank out a quick screencast wherever you are, ScreenToaster can help. You don't get any advanced editing tools—screw up and you're redoing it—but you do get full screen capture, support for picture-in-picture webcam video in the lower right corner, and audio for voice-over. When you're done recording and previewing your clip, you can upload the video to ScreenToaster or YouTube, or download it as a MOV or SWF file. ScreenToaster is free and works with any Java-enabled web browser.
4. Go View Taranfx's Recommended
Go View offers desktop screen recording (with audio) as well as free hosting for your recorded screencast videos with no bandwidth constraints. Captures HQ video shots.
5. Jing (Windows/Mac, Basic: Free, Pro: $14.95 per year) Taranfx's Recommended

Jing is the more compact cousin of Camtasia Studio (see below) and great for less complicated—and more economical!—screencasting. Both the free and pro version are limited to 5 minutes of screen recording and come with a free account at Screencast.com for sharing your captures. This is the only limitation.
The free version can save video as SWF video and is branded with the Jing logo. The pro version allows you to save your videos as SWF and MPEG-4 files, the branding is removed, and you can also share directly to YouTube (in HD) and record from your webcam. Both the free and pro version use the same intuitive and easy menu.
Jing isn't just another great screencasting application. Jing is an interesting "project". At first glance, I wasn't sure I knew exactly what Jing was all about.
6. Capture Fox – Firefox add-on that turns your Firefox browser in a screencasting application. It can record Firefox as well as the entire desktop screen and will save it as a video file.

7. Tip Cam –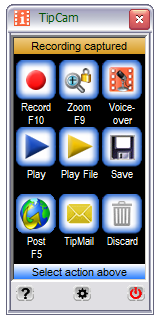 The screencasting tool that records videos of your screen, share videos immediately (no post-processing), it's easy to use.
8. Wink (Windows, Linux), Open Source
Wink, available for Windows & Linux, can capture screenshots, mouse movements and you may also add annotations to your screencasts. You can also add voice narrations at the time of recording and screencasts can be exported as Flash, PDF or EXE for distribution on a CD.
The Tools is quite featureful, and looks like a wise deal.
9. Istanbul: (Linux)
GTK-based Open Source tool for Linux can record the desktop screen into an Ogg Theora video codec, works on GNOME, KDE and XFCE.
Paid Tools (Professional)
10. Camtasia Studio (Windows, $299)
Camtasia Studio is a powerhouse in the screencasting world. Packed with features, Camtasia Studio makes it easy to create screencasts with presets for a variety of sharing situations like YouTube, HD displays, Screencast.com, and more. You can edit the audio and video independently so you don't have to redo a whole segment just because of an oops in the audio or video portion. Special effects and edits are easy to manipulate thanks to fine control over the time line—you can select a portion of your editing timeline right down to the tenth of a second. It's far from free, but Camtasia Studio is a well thought out and feature rich screencasting tool.
11. ScreenFlow (Mac, $99)

ScreenFlow is a Mac-only screencast editor that fills a nice niche between the limited-but-free options and the car-payment-sized options. ScreenFlow sports advanced features, like the ability to decouple audio and video streams for independent editing and audio ducking (if you're using background music it's automatically adjusted during speaking portions of the video); the ability to freeze, speed up, or slow down the video to allow you to time lapse or zoom through a more tedious portion of the task you're demonstrating. ScreenFlow also supports custom cursors and callouts for emphasizing the cursor or foremost window.
Liked our Guide? Subscribe below for more: