No doubt, Google is trying to get into every service on the web, moving ahead, google brings out a new gadgets called Google Related links.
What is it about?
It is a new gadget for webmasters to show related links for any webpage. Ideally, webmasters use plugins or tweaking to show related content on webpage. This Google gadgets allows you to show related link andrelated search keywords for Google Search.
It is introduced as a Google Labs experiment. Related Links work like any other plugin which are available for the WordPress platform and display additional links, which are related to the post a user is reading.
Given a page on your site, Related Links can choose the most related pages from your site and show them in a gadget. You can embed this gadget in your page to help your users reach other pages easily.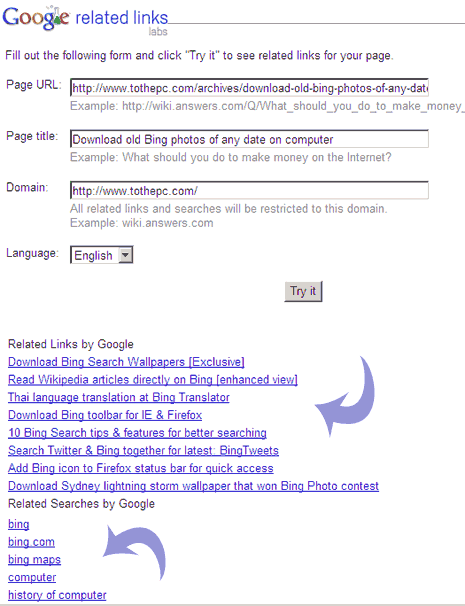 Related Links also suggests searches that users can run within your site to find even more related pages. The only difference between this and other plugins/scripts is that, Google will also display related searches for your domain.
So, besides increasing your pageviews it can result is greater Google searches thereby increasing your Adsense for Search revenue. You can try the demo by entering any specific URL, its title and domain URL. Results for sure are neat along with search engine suggestion — Google Related links
Follow me on Twitter and Facebook or Subscibe to RSS for latest updates.
Note: Currently this service is in invite only mode: you need to email at "relatedlinks@google.com" stating your Gmail address, website domains and approximate pageviews per day.