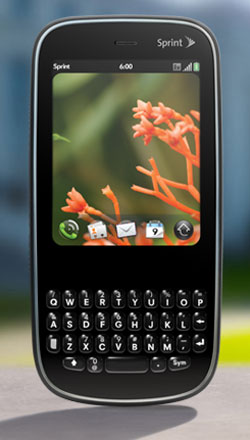 The rumored Palm Pixi (originally spelled Pixie), has now been officially announced.
The Pixi, WebOS based smartphone,  is the thinnest ever phone from Palm. It's 10% thinner than iPhone 3G S and 20% thinner than Pre.
Like the Pre, it also has a full QWERTY keyboard but rather than sliding, it's bare open body. Other specifications include 8GB of onboard storage, a 2 megapixel camera equipped with flash, AGPS, a 2.63 inch capacitive display with a 320×400 pixel resolution, 3.5mm headset jack, Bluetooth 2.1+EDR and…no WiFi.
Features include MicroUSB port (both data and charging), proximity sensor, light sensor, accelerometer, ringer switch, and the same 1150 mAh battery as found in the Pre. The Pixi uses a brand new Qualcomm processor: the MSM7627. The exact specifications of this chip are as of yet unknown. RAM figures are unknown too.
The Pixi comes in the candybar form factor, which makes it incredibly small, thin, and light: it's 10.85mm thin, 111mm tall, and 55mm wide, and weighs in at a mere 99.5 grams.
The screen is capacitive multi-touch, smaller than that of the Pre (3.1″ 320×480) or that of the iPhone (3.5″ 320×480). The multitouch part extends below the screen into the gesture area (a prerequisite for the webOS, it seems), but the centre button of the Pre has been replaced by a gesture area tap. The lower resolution is no problem for the webOS and its applications, as it was designed from the start to handle different resolutions. The multitouch also appears to be slightly more responsive than on the Pre.
Design: video
It'll also come in many different colors and designs as part of something called the Palm Pixi Artist Series, which will offer a selection of limited-edition back covers for the device. As far as price goes, since Pixi is Pre's younger brother, it'll probably be lower than $149.99 which is how much Sprint is currently asking for the Pre.
In a move reminiscent of the Pre launch, Palm has unveiled its second webOS mobile phone today, ahead of Apple's music/iPod event. The Palm Pixi is a candybar incarnation of the Pre, but is clearly positioned below its big brother; smaller screen, and more worryingly, no wifi.
The keyboard sports better tactile feedback. 🙂
The Pixi will be available before the holidays… But only on Sprint for now. So, here we are, two webOS phones, tied to Sprint, and only available in the US and Canada.
But No WiFi and a smartphone? Some one is joking.