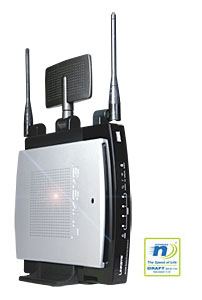 Did you assume that WiMax was the future of wireless networks? Back in May09, we reported that a New MultiGigabit technology is coming to change it all. Leave behind those slow WiFi and WiMax that leave you in miserable mbps of speeds, leap frog to gigabits, thanks to Wireless Gigabit Alliance (WiGig).
Read more: New Multi-gigabit wireless Technology: WiGig
The WiGig 1.0 standard brings out best of two different Wireless technologies: 60-gigahertz wireless and Wi-Fi. The first one uses the 60-gigahertz band of the wireless spectrum to create a 10-meter range  network. It also uses something called "beamforming" to extend the range of the 60-gigahertz network beyond 10 meters. The 60-gigahertz wireless network can support devices inside a home and can transfer data as high as 7 Gigabits per second. This is about 10 times faster than the fastest Wi-Fi networking available: 802.11N, which transfers data at 600 megabits per second and 140x Times faster than popular 802.11g (50mbps x 140 = 7Gbps)
However, due to wireless property of High frequency waves, beyond the 10-meters the first technology attenuates, the network will automatically switch to Wi-Fi n at the speed of 600 megabits per second. That network will have a 100-meter range.
WiGig's direct competitor is Wireless High Definition Interface (WHDI), the group completed its standard this week as well,  and uses 5-gigahertz spectrum with throughputs up to 3 Gigabits a second, with a range of 100 meters. SiBEAM is heading the Wireless HD consortium to make 60-gigahertz wireless chips for networking inside a room. Some of the members such as Samsung and Sony are betting on all three horses.
However, they are looking into different segmentes. WHDI focuses on transferring video, while SiBEAM may focus on replacing cables in a home electronics network. WiGig, meanwhile, accommodates both the Wi-Fi and WHDI uses. Consumers may be confused by the three different standards, but the competition will likely shake out as users figure out what network best suits them.
The  WiGig specification will be made available to partners in the Q1 and that products are expected to go live for consumers sometime in mid-2010. More than 25 companies are part of the new standard, including Intel, Broadcom and Texas Instruments, Nvidia, TMC, SK Telecom and AMD.
What we know of sure is that by the end of 2010, All three groups will be seen in next-generation PCs, mobile handsets, TVs, displays, Blu-ray players, and what not.